Skin cancer is the most common type of cancer in the United States. At my dermatology practice in Houston, it is also one of the most common skin concerns I treat.
Skin cancer is the uncontrolled growth of irregular skin cells resulting from the harmful UV rays emitted from the sun or artificial sources such as tanning beds. This type of harsh radiation can cause the cells of the skin to rapidly divide, resulting in basal cell carcinoma, squamous cell carcinoma, or melanoma.
Prevention and monitoring for new spots are the first steps in beginning your journey towards the fight against skin cancer. In fact, sunscreen has become a trending topic in today's world due to its vital importance in preventing skin cancer. Sunscreen with an SPF of 30 or higher, as well as sun-protective clothing, are key components when developing a skin care routine.
Please contact my practice at (713) 487-8233 or request a consultation online to schedule your annual skin check or if you have any concerns about your skin.
Skin Cancer Risks
According to the American Academy of Dermatology, research shows nearly one in four Americans have skin disease, with an estimated 9,500 people diagnosed with skin cancer every day.1 Skin cancers are most common among Caucasians; however, individuals of all colors and races still have the potential of being diagnosed with it. Patients with fair skin, especially, should know that regular skin checks are vital.1
Patients are recommended to visit their dermatologist for a skin check at least once a year. This screening includes a head-to-toe exam that allows your dermatologist to monitor any spots of concern that may need closer observation and treatment. It is important to note that if a skin cancer is present and left untreated, it can grow and spread, leading to a more invasive procedure to remove it.
Types of Skin Cancer3
The three main types of skin cancers include:
Basal Cell Carcinoma (BCC)
Squamous Cell Carcinoma (SCC)
Melanoma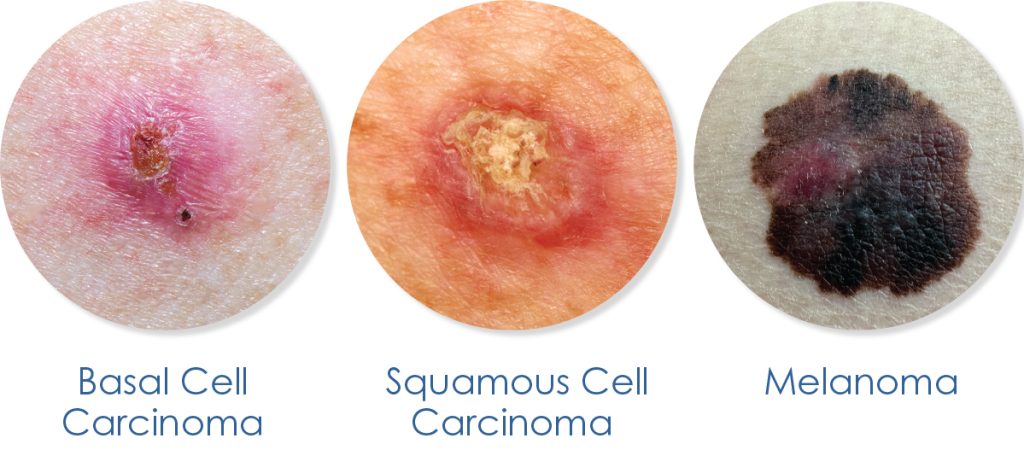 BCC and SCC are the most common while Melanoma is the most fatal.
With early detection and proper treatment, the cure rate for BCC and SCC is approximately 98%. When Melanoma is detected before it spreads, it also has a high cure rate.2 Learn more about identifying Melanoma in our related blog post.
Prevention Is the Best Medicine
The number of skin care and sun protection products available today is continuing to evolve, each targeting different concerns one may have for their skin.
Although these are effective, when it comes to skin cancer prevention, I recommend daily use of mineral sunscreen with active ingredients such as titanium dioxide and zinc oxide as part of your daily skincare routine.
Mohs Surgery To Treat Skin Cancer in Houston
Mohs surgery is one of the most effective procedures when treating skin cancer.4 Mohs surgery for skin cancer involves surgically removing layers of skin cancer and until all of the cancerous skin is removed and healthy skin is reached.
After each layer is removed it, is examined under a microscope to assess the tissue to check for cancerous cells. Using this method, I am able to achieve a higher cure rate than other skin cancer surgery techniques, with 3 important added benefits:
Minimal scarring
A greater amount of healthy tissue spared
Superior cosmetic outcomes
The experience of Mohs surgery varies between patients, depending on the type of skin cancer they have and how invasive it is. One of the aspects most patients appreciate about Mohs surgery is knowing that it offers the highest cure rate and lowest recurrence rate of any skin cancer treatment.
Dr. Christopher Downing, Houston Mohs Surgeon
I am a double board-certified dermatologist and fellowship-trained Mohs micrographic surgeon serving patients from Cypress and throughout the Houston area. I strongly believe in the importance of taking time with all of my skin cancer patients to determine the best treatment options for them so that they can achieve optimal results.
During your consultation, I will meet with you to discuss your concerns and identify the best course of action to remove the skin cancer and preserve your skin's appearance.
Request Your Skin Check Today
If you haven't already, please call (713) 487-8233 or request a consultation online to schedule your annual skin check as soon as possible at my Houston dermatology practice. And always remember, an SPF a day keeps the skin cancer away!
References